TORQUETRAK 10K-LP
LOW PROFILE TORQUE SENSOR SYSTEM
Measuring live torque in real time is easier than ever with the TorqueTrak 10K-LP (Low Profile) telemetry system. Convert virtually any drive shaft into a rotating torque sensor by simply mounting the wireless torque transmitter, battery and a torque sensitive strain gage to the shaft. At only 0.70 inches tall, the TorqueTrak 10K-LP is ideal for applications with very low radial clearance (area around the shaft) such as on vehicle drive shafts.
Use the infrared remote control to adjust transmitter gain, activate the remote shunt calibration or switch the transmitter to standby power mode. The multi-line LCD receiver display and keypad make system adjustments straightforward. Low power consumption in the rugged transmitter allows longer battery life than the TorqueTrak 10K while sophisticated electronics ensure accurate and reliable torque data output.
FEATURES & BENEFITS
Easy to Use – Fits any size shaft, any torque level. No machine modifications or disassembly required. Calibration is done off-the-shaft. Receiver display and keypad offer user-friendly interface.
Infrared Remote Control – Control transmitter operation including channel select, gain/range, shunt calibration and low-power standby mode.
Reliable Data Transmission – Clean, noise-free data signal through analog voltage output or digital data output via RS-232.
Standby Power Mode – Extends transmitter battery life without disconnecting battery.
16 Channels – 500 Hz Frequency Response Use; multiple systems simultaneously.
User Adjustable Gain – Amplify the strain/torque signal to the most useful level.
TX10K-LP-S STRAIN TRANSMITTER
SENSOR INPUT:
Full (four-arm) Wheatstone Bridge strain gage (350Ω standard)
BRIDGE INPUT:
3.0 VDC, ±0.1%
SENSOR RANGE:
User selectable per chart below (chart based on gage factor = 2.0):
TRANSMITTER GAIN
FULL BRIDGE
4 ACTIVE ARMS
(TORQUE OR BENDING)
FULL BRIDGE
2.6 ACTIVE ARMS
(TENSION OR COMPRESSION)
1/4 BRIDGE
1 ACTIVE ARM
(SINGLE GAGE)
16000
±125 MICROSTRAIN
±192 MICROSTRAIN
±500 MICROSTRAIN
8000
±250 MICROSTRAIN
±385 MICROSTRAIN
±1000 MICROSTRAIN
4000
±500 MICROSTRAIN
±769 MICROSTRAIN
±2000 MICROSTRAIN
2000
±1000 MICROSTRAIN
±1538 MICROSTRAIN
±4000 MICROSTRAIN
1000
±2000 MICROSTRAIN
±3077 MICROSTRAIN
±8000 MICROSTRAIN
500
±4000 MICROSTRAIN
±6154 MICROSTRAIN
±16,000 MICROSTRAIN
SENSOR & POWER CONNECTION:
Screw terminal block
TRANSMITTER POWER INPUT:
6.0 to 25VDC (9V battery typical)
TRANSMITTER POWER CURRENT:
Transmit Mode: 20 mA nom, 200 mW max with 350Ω bridge
Standby Mode: 0.5 mA nom, 8 mW max
TRANSMITTER BATTERY LIFE:
48 hours in Transmit Mode (9V lithium, 350Ω bridge, 25°C)
TRANSMISSION FREQUENCY:
903-925 MHz
TRANSMIT DISTANCE:
10 feet or more
G-FORCE RATING:
2000 g's (steady state)
OPERATING TEMPERATURE:
-30° – 85°C(-22° – 185°F)
SIZE AND WEIGHT:
0.64″x 1.02″x 2.01″, 31 grams
RM10K REMOTE CONTROL
For use with TX10K-S Strain Transmitter
CONTROL FUNCTIONS:
Channel select; Gain/Range; Shunt Calibration 1 and 2; Power Standby
TRANSMIT TYPE AND DISTANCE:
Infrared; up to 10 feet (for use when transmitter is not rotating)
RX10K RECEIVER
VOLTAGE OUTPUT:
±10 VDC, field adjustable 0.25x to 4.0x
5-way binding posts (banana jacks)
DIGITAL OUTPUT CONNECTION:
RS232 type DB9 connector (cable provided for PC COM port)
RECEIVER POWER INPUT:
12VDC nominal (10 – 18VDC acceptable), 300 mA max
(110VAC or 220VAC adapter provided)
OPERATING TEMPERATURE:
-20° to 70°C (-4° to 158°F)
SIZE AND WEIGHT:
2.88″ x 5.75″ x 8.50″, 2 lbs (73 mm x 146 mm x 216 mm, 1 kg)
TT10K SYSTEMS
RESOLUTION:
14 bits
GAIN ERROR1:
±0.25%Reading (max), 25°C ambient
GAIN TEMPERATURE COEFFICIENT1:
±0.005%Reading/°C (max), 0 – 50°C ambient
OFFSET ERROR1:
±0.16%FS (max), 25°C ambient
OFFSET TEMPERATURE COEFFICIENT1:
±0.004%FS/°C (max), 0 – 50°C ambient
FREQUENCY RESPONSE2:
0 – 500 Hz (-3dB @ 500Hz)
DELAY2:
4.2 msec, typical
SAMPLE TRANSMISSION RATE:
2400 samples/sec
1TX10K Gain = 4000
2RX10K filter setting = 500Hz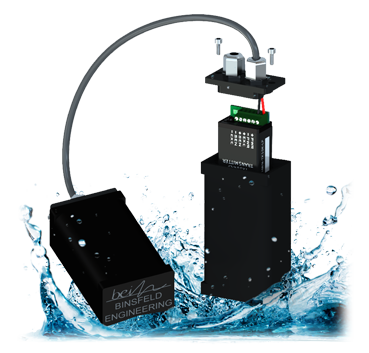 WATER RESISTANT HOUSING
Protecting TT10K-LP transmitters from water and debris is easier than ever with the Water-Resistant Housing Accessory.
BINSFELD ENGINEERING INC.
4571 W. MacFarlane Rd.
Maple City, MI 49664 USA
Binsfeld's Torque Measurement Systems measure true mechanical torque and power on rotating shafts. We also offer consultation, strain gaging and installation services.
Binsfeld's Rotary Temperature Transmitter Systems provide accurate and reliable temperature control on heated godets and calendars. We also offer design and OEM services.
Sign-up to receive featured application stories, relevant news, tips, and new product release information for our torque measurement products.