TORQUETRAK TPM2
TORQUE & POWER MONITORING SYSTEM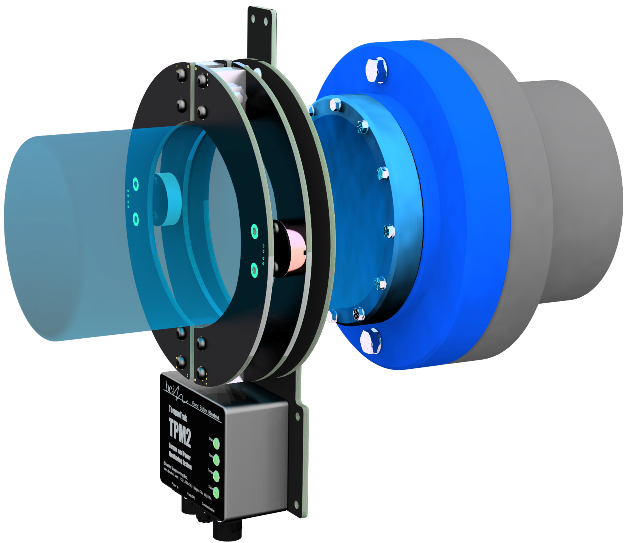 The TorqueTrak Torque and Power Monitoring System (TPM2 series) is a rugged precision instrument designed to measure torque and/or power on rotating shafts in real time. The TPM2 uses RS422 full duplex, point – to – point serial interface communication. The TPM2 is custom designed to fit on shafting up to 40 inches (1016 mm) in diameter. Machine disassembly is not required.
Software for setup and configuration
Digital RS422 output
Splash resistant control box
Selectable input ranges
High RPM / centrifugal g-force rating
DOCUMENTATION
FAQ
DATA ACQUISITION
TORQUE CALCULATORS
MARKETS
FEATURES & BENEFITS
Easy Installation – Rotating Collar and Stationary Ring are split and bolt together around the shaft. No Machine assembly or Shaft modification is required.
Robust Construction – Sturdy hardware and electronics, built for demanding environments.
Reliable Operation – Inductive power and data transfer with generous clearance between stationary and rotating parts. No wear surfaces.
System Status Indicators – Confirm proper operation at a glance.  Expedites troubleshooting.
Easy-on Collar – Rotating Collar is designed to accommodate small variations in shaft diameter and clamps to the shaft using standard tools.
Communications Made Easy – High-speed bi-directional communications link interfaces with PC or PLC.  User-selectable sample rate up to 4800 samples/second.
Product Support – Backed by BEI's proven outstanding customer service, before and after the sale.
POWER SUPPLY INPUT:
10 – 30 VDC @ 10 W (nom), 15 W (max)
TORQUE SENSOR
TORQUE SENSOR INPUT:
Strain gage bridge, 350 ohms (std), 120 ohms (min)
Input Range: user-selectable from 0.025 to 32 mV/V
Shunt Calibration: 2 user-selectable: 1 mV/V and 0.2 mV/V (350 ohm bridge)
TORQUE SENSOR RESOLUTION:
15 bit (32,768 points)
TORQUE SIGNAL
TORQUE SIGNAL ACCURACY:
Zero error: ±0.1% FS (max), Scale error: ±0.2% (max) 
TORQUE SIGNAL BANDWIDTH:
10 user-selectable settings from 3 to 1000 Hz
GENERAL
SHAFT SPEED AND DIRECTION:
Measured once per revolution
Resolution:1 5 bit (32,768 points), auto-ranging
COMMUNICATION INTERFACE:
RS(EIA)-442 full duplex, up to 1000 ft (300 m) run
Baud Rate: Auto-detectable from 1200 to 460,800 bps
Sample Rate: 10 user-selectable settings from 9.375 to 4800 samples/sec
OPERATING ENVIRONMENT:
-40° to +70° non-condensing
Specifications are subject to change without notice.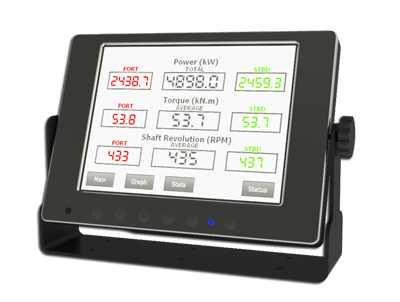 OP-TORQ SYSTEM - TPM2
The Op-Torq system is a performance monitoring system designed to display, log, and analyze power, RPM and torque from TorqueTrak TPM2 Torque Meters.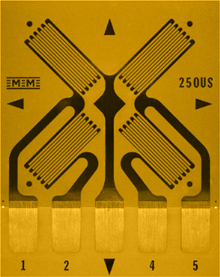 TORQUE MEASUREMENT SERVICES
When you need to know the real torque (or horsepower) on your machinery or drive system consider Binsfeld Torque Measurement Services.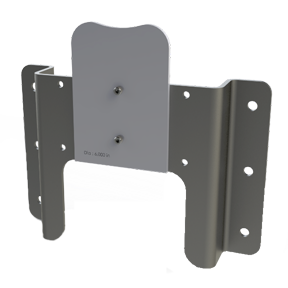 TPM2 INSTALLATION KIT
Mounting bracket designed for easy installation of the TPM2 Torque and Power Monitoring System.
BINSFELD ENGINEERING INC.
4571 W. MacFarlane Rd.
Maple City, MI 49664 USA
Binsfeld's Torque Measurement Systems measure true mechanical torque and power on rotating shafts. We also offer consultation, strain gaging and installation services.
Binsfeld's Rotary Temperature Transmitter Systems provide accurate and reliable temperature control on heated godets and calendars. We also offer design and OEM services.
Sign-up to receive featured application stories, relevant news, tips, and new product release information for our torque measurement products.