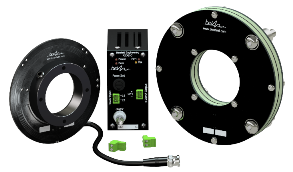 The RT310 Series Transmitter is an extremely reliable multi-channel temperature measurement system for the calendar industry. The digital transmitter circuit and digital controller interface circuit are immune to electrical noise and drift. Generous 9 mm clearance between the rotating and stationary parts eliminate rubbing and impacting – a cause of failure in other designs. The stationary electronics are housed in a small DIN-rail mount enclosure to remove them from the harsh calendering environment. Models are available to accommodate from one to four RTD signals in a variety of mechanical configurations to fit most machines.
RT311 – One-Zone Temperature Transmitters
RT312 – Two-Zone Temperature Transmitters
RT313 – Three-Zone Temperature Transmitters
RT314 – Four-Zone Temperature Transmitters
FEATURES & BENEFITS
Accurate – Within ± 0.3% across entire sensing range.
Robust – Fully encapsulated rotating electronics with generous clearance between rotor and stator.
Flexible – Programmable for different sensors and different outputs.
Versatile – Easily configured to fit most roll / calendar shafts.
DIN-Rail Mount – Controller Interface installs easily in instrumentation cabinet.
Digital Circuitry – Digital rotor and stationary circuitry immune to noise and drift.
Multiplexed Channels – One to four channel systems available.
Intelligent – Protects heater if sensor, transmitter or cable malfunctions.
High Speed – Designed to operate up to 5,000 RPM.
Product Support – Backed by BEI's reputation for the strongest customer support in the industry and a full two-year warranty.
CALENDAR TRANSMITTERS- SPECIFICATIONS
The RT310 series utilizes a digital transmitter circuit and digital controller interface circuit. Its inductive power and data transfer scheme is completely noncontact. Components are completely interchangeable and will handshake and adjust power levels as required. Different models are available to accommodate from one to four RTD signals.
NUMBER OF SENSORS:
Models available for 1-4 sensors
SENSOR INPUT:
PT100 RTD (100Ω at 0°C, α =.00385, two wire) standard (other configurations available including nonstandard RTDs)
SENSOR RANGE:
0° to 300°C standard (other configurations available)
SENSOR CONNECTION:
M3-0.5 screw terminals with socket-head cap screws
(designed for #4 ring terminals on customer sensor leads)
OUTPUT CONNECTION:
Quick connect screw terminal block
OUTPUT SIGNAL:
Discrete 4-20 mA current source (each channel)
ACCURACY:
±0.3% span over operating range
AMBIENT TEMPERATURE:
Rotating Unit: 0°C – 100°C
Stationary Housing: 0°C – 100°C
Controller Interface: 0°C – 85°C
Humidity: 0-90% RH, non-condensing
POWER INPUT:
22-35 VDC or 17-27 VAC; 2A max, 0.5A nominal
ROTOR SPEED:
5,000 RPM maximum
BINSFELD ENGINEERING INC.
4571 W. MacFarlane Rd.
Maple City, MI 49664 USA
Binsfeld's Torque Measurement Systems measure true mechanical torque and power on rotating shafts. We also offer consultation, strain gaging and installation services.
Binsfeld's Rotary Temperature Transmitter Systems provide accurate and reliable temperature control on heated godets and calendars. We also offer design and OEM services.
Sign-up to receive featured application stories, relevant news, tips, and new product release information for our torque measurement products.