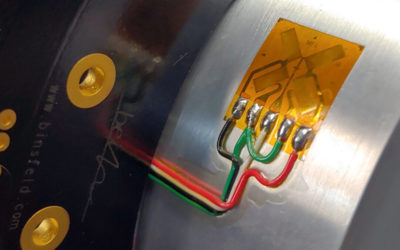 Strain gages (sometimes referred to as strain gauges) are exceptionally useful measurement tools, often because of their sensitivity. As evidence, strain gages are typically used as the sensing elements in precision load cells, the most precise "load" measurement...
read more
BINSFELD ENGINEERING INC.
4571 W. MacFarlane Rd.
Maple City, MI 49664 USA
Binsfeld's Torque Measurement Systems measure true mechanical torque and power on rotating shafts. We also offer consultation, strain gaging and installation services.
Binsfeld's Rotary Temperature Transmitter Systems provide accurate and reliable temperature control on heated godets and calendars. We also offer design and OEM services.
Sign-up to receive featured application stories, relevant news, tips, and new product release information for our torque measurement products.