TORQUETRAK REVOLUTION
TORQUE MEASUREMENT & POWER MONITORING SYSTEM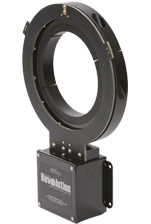 The TorqueTrak Revolution Series is a torque and power monitoring and control system that features inductive (non-contact) power and data transfer for continuous operation. Designed for applications that require ongoing measurement of torque and/or horsepower, the TorqueTrak Revolution system is custom-machined to install on existing shafting up to 40 inches (1016 mm) in diameter. Machine disassembly is not required. The microprocessor-based system features 14-bit signal processing to provide precise, reliable data in real time during actual machine operation.
FEATURES & BENEFITS
Easy Installation – Rotating Collar and stationary Power Coil are split and bolt together around the shaft. Shaft modification is not required.
Convenient Calibration – Use at factory settings or utilize easy scaling and adjustment tools. No tuning required.
Reliable Operation – Inductive power and data transfer with generous clearance between stationary and rotating parts. No wear surfaces.
Digital Data Transmission – Delivers a clean, noise-free data signal with 14-bit resolution.
Robust Construction – Sturdy hardware and electronics, built for demanding environmental conditions.
Onboard Intelligence – System status indicators confirm proper operation and aid in troubleshooting.
Product Support – Backed by BEI's proven outstanding customer service, before and after the sale.
TRANSMITTER MODULE
(mounted inside Rotating Collar)
SENSOR INPUT:
Full Bridge strain gage (4 active arms. 350Ω standard; up to 1000Ω acceptable.)
BRIDGE EXCITATION:
2.5 VDC, Regulated
SENSOR RANGE:
±500 microstrain (Full Bridge, 4 active arms – Torque or Bending)
±769 microstrain (Full Bridge, 2.6 active arms – Tension or Compression)
Other microstrain ranges are available
TEMP COEFFICIENT – GAIN:
≤ 0.005% FS/°C (50 ppm/°C) +20°+70°C
≤ 0.010% FS/°C(100 ppm/°C) -40°+85°C
TEMP COEFFICIENT – ZERO:
≤ 0.005% FS/?C (50 ppm/°C) +20°+70°C
≤ 0.010% FS/?C (100 ppm/°C) -40°+85°C
LINEARITY:
≤ 0.05% FS
G-FORCE RATING:
Greater than 3000 g's. For example, 5700 rpm on a 4 inch (102 mm) shaft.
SENSOR CONNECTION:
4-conductor cable
ROTATING COLLAR
(shaft diameter to be specified by customer)
MATERIAL:
Cast nylon standard
ASSEMBLY:
Split collar bolts together onto shaft.
DIMENSIONS:
Outer Diameter: 4 to 6 inches (102 to 152 mm) greater than shaft diameter
Width: 1.25 inches (32 mm)
MASTER CONTROL UNIT & POWER COIL
RECEIVER OUTPUT SIGNAL:
Four independent current output signals:
Torque: 12 ± 8 mA, scalable
Power: 12 ± 8 mA, scalable
Shaft Speed/RPM: Pulse Indicator, 5-19 mA
Shaft Direction: Binary Indicator, 5 or 19 mA
RECEIVER INPUT POWER:
11-16 VDC standard; 2A max, 0.5A nominal
(115VAC or 230VAC option available)
RECEIVER OUTPUT CONNECTION:
Screw Terminals
MOUNTING:
Mounting Flanges on Master Control Unit
DIMENSIONS:
Master Control Unit: 6 x 6 x 4 inches (152 x 152 x 102 mm)
Power Coil – Outer Diameter: same as Rotating Collar OD
Width: 0.25 inches (3 mm)
BINSFELD ENGINEERING INC.
4571 W. MacFarlane Rd.
Maple City, MI 49664 USA
Binsfeld's Torque Measurement Systems measure true mechanical torque and power on rotating shafts. We also offer consultation, strain gaging and installation services.
Binsfeld's Rotary Temperature Transmitter Systems provide accurate and reliable temperature control on heated godets and calendars. We also offer design and OEM services.
Sign-up to receive featured application stories, relevant news, tips, and new product release information for our torque measurement products.